Volkswagen ID.3
Beyond the ID launch edition.3 1st, now exhausted, Volkswagen offers four variants of its electric compact:
Volkswagen ID.3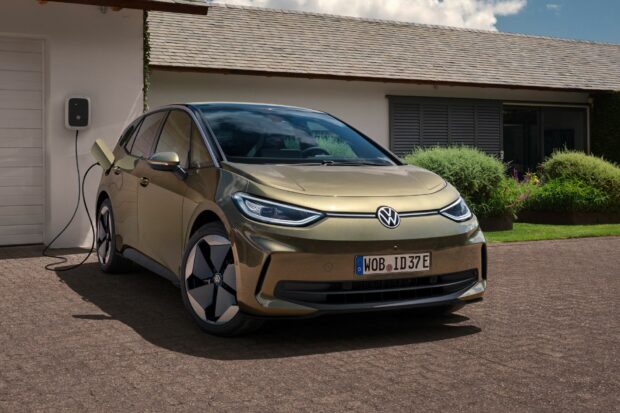 Configure your Volkswagen ID vehicle.3 or ask for a free trial.
First model in the ID range presented by the German brand, the Volkswagen ID.3 has been available since the end of 2019 on the French market. In 2023, VW brought an update stylistic and technological to the model, which now displays an entry ticket at 42,990 euros.
Volkswagen ID design.3
Revealed for the first time at the Paris Motor Show in September 2016, the Volkswagen ID 3 took on compact appearance. It is the first model of the German group inaugurating on the new MeB platform dedicated to electric vehicles.
With a length of 4.26 meters, the Volkswagen ID.3 Stay close to the tempkswagen e-golf template with 4.26 m in length, 1.80 in width and 1.57 in height. Its wheelbase is 2.77 m.
In terms of habitability, it has a 385 -liter capacity trunk that can be increased to 1,267 liters once the rear seats folded down.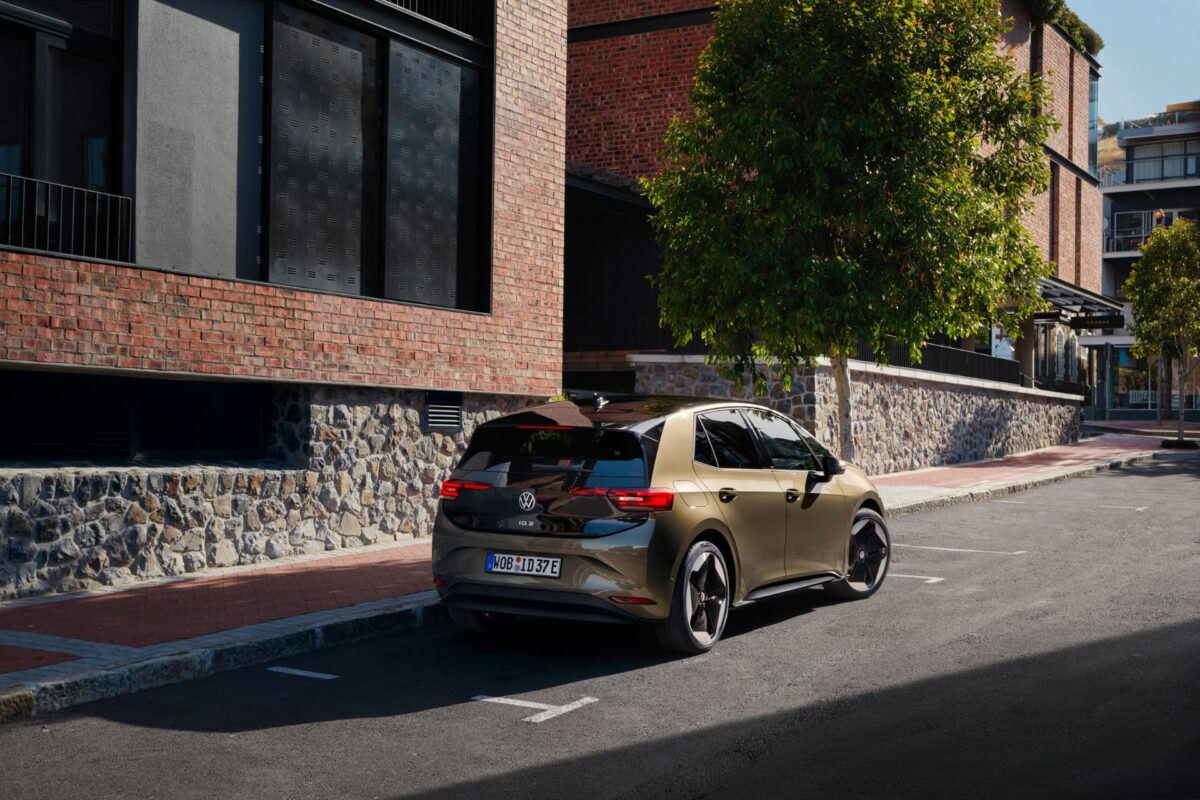 A new painting is available in the ID catalog.3: A green with golden reflections
Volkswagen ID motorization and performance.3
Configured in propulsion, the Volkswagen ID.3 offers three engine configurations: 107, 110 and 150 kW.
Depending on the version, the 0 to 100 km/h is ensured between 7.9 and 9.6 seconds. Top speed is limited to 160 km/h regardless of the version.
Power
Couple
0-100 km/h
Id.3 Pure Performance (Order)
110 kW – 150 hp
310 Nm
8.9 s
Id.3 pro (stopped)
107 kW – 140 hp
275 nm
9.6 s
Id.3 Performance
150 kW – 204 hp
310 Nm
7.3 s
Id.3 pro S
150 kW – 204 hp
310 Nm
7.9 s
Autonomy and batteries
In terms of autonomy, the Volkswagen ID 3 offers three battery configurations:
45 kWh which is the entry -level with 350 km of autonomy
58 kWh, Intermediate version with 425 km of autonomy
77 kWh for autonomy of up to 544 kilometers
Another important point to note: all the capacities announced correspond to "useful" values.
ID recharging.3
On the charging part, the Volkswagen ID3 incorporates an integrated charger for a power up to 11 kW. The only exception: the entry -level City version which is satisfied with a charger of 7.2 kW.
On the fast load, the power of 50 to 170 kW depending on the chosen version. This allows on average to recover 80 % autonomy in approximately 30 minutes
AC load
DC Comb Board
Id.3 pure (arrested)
7.2 kW
50 kW (100 kW optional)
Id.3 pro (stopped)
11 kW
120 kW
Id.3 pro performance
11 kW
120 kW
Id.3 pro S
11 kW
170 kW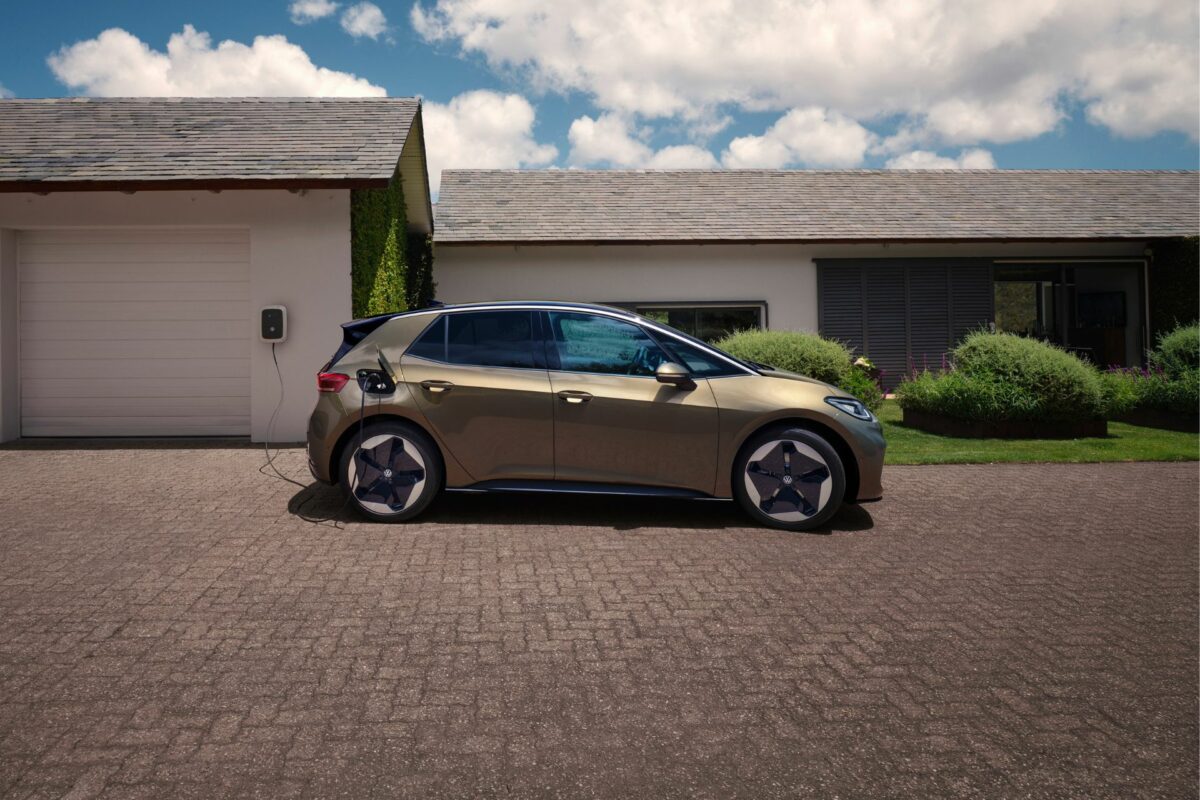 Launched in 2019, the Volkswagen ID.3 already goes through the restyling box in March 2023
ID features
Beyond its 100% electric operating mode, the Volkswagen ID also announces the 100% autonomous driving devices that the German brand wishes to implement from 2025.
The Volkswagen electric car can ultimately move alone under certain conditions thanks to a device called "ID Pilot". This semi-autonomous help system combines adaptive cruise control, active track, radars and cameras.
ID.3 restyled in 2023 has a dashboard with new flexible surfaces lined with foam
Versions of the ID.3
Beyond the ID launch edition.3 1st, now exhausted, Volkswagen offers four variants of its electric compact:
At the entrance, theId.3 Pure performance is based on a 45 kWh battery. Authorizing up to 350 km of autonomy, it is associated with an AC charger of 7.2 kW and a combo connector of up to 100 kW optional (50 kW as standard). This version is no longer marketed.
At the entrance, theId.3 pro which inherits the 58 kWh battery but with an engine power reduced to 107 kW, or 145 horsepower. The pro version is out of the catalog.
Close to the limited edition ID.3 First, ID.3 proPerformance constitutes the mid -range. Equipped with a 58 kWh battery, it will allow up to 427 kilometers of autonomy in WLTP cycle. With a capacity of 11 kW, the AC charger is completed by a 120 kW combo connector.
Higher -end, theId.3 pro S benefits from the biggest battery. With a capacity of 77 kWh, it allows up to 557 kilometers of autonomy. On the recharging side, the 11 kW on -board charger will be associated with a 170 kW combo connector.
Volkswagen ID Prize and finishes.3
Volkswagen ID.3 currently offers 3 finishing levels on the pro performance version and two finishes on the pro S.
Id.3 pro performance

Life Plus: 42,990 euros
Style: 44,990 euros
Exclusive style: 46,990 euros

Style: 49,990 euros
Exclusive style: 52,990 euros

Volkswagen ID.3

Volkswagen ID tests and comparisons.3

Test – Volkswagen ID.3 restyled (2023): salutary update

Comparison – Renault Mégane E -Tech Electric vs Volkswagen ID.3: A duel that sparks

Test – Volkswagen ID.3 Pure Performance (2021): What is the ID worth.3 to the smallest battery ?

Video comparison – Renault Megane E -Tech Electric VS Volkswagen ID.3: Strategic duel

Volkswagen ID reviews.3

By CPO45 on 08/04/2023

By Alain0409 on 07/06/2023

By Pierrer on 07/06/2023

By David456 on 01/03/2023

Buy your Volkswagen ID.3

Your Volkswagen ID.3 new cheaper with Promoneuve: up to 21% discount

Occasionally with

204 Pro Performance Family
2020 34 900 km automatic Electric

204 Active Performance 62kWh
2023 3,000 km automatic Electric

204 Active Performance 62kWh
2022 6,000 km automatic Electric
Above the 24-month guaranteed market

2022 9 900 km automatic Electric

204 Pro Performance Life Plus
2023 6,000 km automatic Electric
20 month warranty

2020 60 550 km automatic Electric
Very good deal guaranteed 12 months

204 Pro Performance 62kWh
2022 3,000 km automatic Electric
Good matter guaranteed 24 months

2020 18 900 km Electric automatic
Very good matter guaranteed 24 months

2023 5 km Automatic Electric
Equitable offer warranty 31 months

204 Pro Performance Life Plus
2023 5,000 km automatic Electric

Volkswagen ID news.3

Scoop – Volkswagen ID. 3 GTX: the sports version arrives

Volkswagen ID.3 (2023): our autonomy measures

Volkswagen ID.3 restyled (2023) from € 42,990

Against the tide: the alternatives to the Volkswagen ID.3

Presentation – Volkswagen ID.3 restyled (2023): Second chance

Volkswagen ID.3 restyled, it was for March 1, 2023

Volkswagen ID videos.3

Presentation – Volkswagen ID.3 restyled (2023): Second chance

Comparison – Renault Mégane E -Tech Electric vs Volkswagen ID.3: A duel that sparks

Video comparison – Renault Megane E -Tech Electric VS Volkswagen ID.3: Strategic duel

Follow Caradisiac

City car
Average sedan
Large sedan
Break
Minivan
Cut
Convertible
4×4, SUV and Crossover
Pickup
Utility
Motorcycles
All cars by brand

Archives
Sitemap
Legal Notice
Privacy Policy
Cookie use charter
Cookie configuration

Contact
Advertisers
Caradisiac writing
Who are we ?
Recruitment
Sitemap
Legal Notice
Privacy Policy
Cookie use charter
Cookie configuration

Copyright © Groupe La Centrale – All rights reserved

Test – Volkswagen ID.3 (2023), Restart.

It must be admitted, since the time of the GTI or TDI, Volkswagen has operated a sacred turning in its history, towards an ambitious and almost inevitable world which is now combined with the electricity fairy. The "diesel-gate" was the accelerator. The German manufacturer inexorably pursues its quest "green attitude" by offering its buyers, still not enough, a new face for its ID.3 in line with many customer expectations. Determined to review the copy, Volkswagen offered us the test of an ID.3 restyled, in the region of Perpignan and Collioure, with significant changes, both in quality and services. Now is it enough to take off the sales ?

The 100% electric compact from Volkswagen, the first in the ID series, is oriented towards better perceived quality and more suitable electrical efficiency. The objective: to ensure for its new model a better future than that of the first version, which has so far been shy on the market.

Release for the first time at the end of 2019, the ID.3 was to start its marketing in the spring of 2020, then finally its launch was delayed in September.

Good to know: anticipate purchase and resale.

It is possible to know the resale or recovery value of your vehicle thanks to the Turbo car rating of your Volkswagen ID.3, the alternative to the Argus coast.

Dantesque beginnings

ID.3 had laborious beginnings because of various electronic problems, the semiconductor crisis did not help things, any more than the covid pandemic, confinement, etc.

And then its price has always been a bit high, especially against a Tesla Model 3 more competitive.
He sold in 2022, on the old continent 216,000 ID.3, 16.000 copies only in France, half as much as the American model.

In 2022, the ID.3 went from the 10th to the 22nd position of electric cars sales. In short, delicate departure, rather even chaotic.

Obligation, reaction

It was therefore necessary for Volkswagen to react, and react quickly. The manufacturer has reviewed the specifications, in style first: useful work to make it more serious, more statutory, at the Volkswagen what ! The frills are removed, the front shield is redesigned, the manufacturer removes the black plastic band at the foot of the front windshield.

The drawings, without interest, on the lateral sides are deleted and the rear optics, now, become entirely bright. It's not much, but the ID.3 gives itself the means to be more attractive than before . We must still admit that its architecture is closer to a high -shape car than a crossover in the air . Too bad: a desire to make the style of the ID.3 Close to that of a golf or a golf course not to destabilize a clientele that has become volatile.

The interior has also been reviewed, in response to customer expectations . First perception, life on board is rather pleasant. Own furniture has largely gained in perceived quality. Well done ! It was necessary, it's done. Materials have finely evolved towards more elegance. Durable materials, for some, more leather.

Infordmenting has also been reviewed . Serial equipment remains generous from the entry level (Life Plus finish): 12 -inch "infotainment" screen, adaptive cruise control, lane assist, reversing camera, front and rear parking assistance, wireless access app, access access At key starting. Even the counter-door has been reworked. The trunk does not evolve, 385 liters . The idea of ​​the new model ? Offer more standard equipment for a more suitable rate, an average of 3 lower than.100 euros .

Two batteries available, REVIUD CHARGE TIME

ID.3 offers two battery capacities: 58 kWh or 77 kWh . And its load capacity increased from 135 to 170 kW . Which generates a 30 -minute expectation on a specific plug suitable up to 80% of the load.

ID.3 is rather very easy to handle, always comfortable on long distances. But the 204 horses are not too much. To do this, it is better to orient yourself towards the most powerful model, 150 kW, or 204 horsepower with the big battery. Weight, weight, weight. Always a constraint: here, the ID.3 weighs almost 1.9 tonnes. Unimaginable for this architecture and size.

The electric force makes the car anyway docile. It clearly gains in autonomy, 557 km in WLTP (removing 30%reasonably) . In simple propulsion, it does not lose its directional power at the front, and largely retains the qualities and weaknesses inherent in those of an electric car: a certain, boring comfort in driving . The new materials erase parasitic noises, and the car does not really offer character: acceleration, brake, regeneration (it is rather very good).

ID.3 is useful, contributory, without generating pleasure . On the road. That's the word. Also secure. From 42.990 euros (small battery), from 49.990 for our test model (with the big battery).

– Back to its values
– More attractive price
– More standard equipment

– Principle of the electric car: without character
– Big battery 77 kWh without bonus
– "Golf Plus" architecture

Volkswagen ID.3 does not lack ideas ! Of above all. It deserves a new start since Volkswagen has changed the first version according to the expectations of its customers. Propose better, cheaper, while listening to desires and needs. ID.3 took the right trajectory. More reliable, good versatility, sufficient autonomy for average journeys, with the added bonus of 5.000 euros for the entry -level model. What to take a look at this model again. A car that should recover a more suitable sale pace to its ambitions. At least we wish him.