Offers and promotions
Valid from 07/26/2023 to 14/10/2023
ODR Samsung S22
For the purchase or rental of a case or a shell for Galaxy Z Fold5, Z Flip5, Z Fold4, Z Flip4, S23, S23+, S23 Ultra or S22, Samsung reimburses you up to € 20.
For any purchase from 07/26/2023 at 30/09/2023
Valid from 07/26/2023 to 14/10/2023

How to benefit from the offer ?
1) For any purchase or rental Between July 26 and September 30, 2023 included, of a case or a shell for Galaxy Z Fold5, Z Flip5, Z Fold4, Z Flip4, S23, S23+, S23 Ultra or S22 eligible for the offer, Samsung reimburses you up to € 20.
Offer valid only on new and non -reconditioned products purchased or rented from a point of sale or a website located in mainland France and Monaco (excluding marketplace*).
2) Make your request online by downloading all the elements indicated in the terms, Until October 14 inclusive.
3) If your file complies with the conditions of the offer, You will receive your reimbursement by bank transfer within a period of 4 weeks From the date of participation.
*A marketplace designates an online platform connecting a third -party seller and consumers for the sale of a product.
Offers and promotions

You bought an eligible Samsung product
to a reimbursement offer and you wish to benefit from it ?
From the Samsung offers and promotions page, select the promotion concerning your product to access the desired form.
Then follow the 6 steps to complete and validate your refund request.
You will find below our advice to complete your request as well as possible.
Step 1: Access the form
To make your refund request, you must first go to the Samsung offers and promotions page:
1. Once on this page, select the reimbursement offer corresponding to the product you bought.
Noticed : If you cannot find your promotion, remember to click on the corresponding tabs (in progress, Samsung exclusives.com, finished) then on the category corresponding to your product.
2. Consult the conditions of the offer by clicking on "Learn more" then on "see the terms".
If you meet the conditions of participation, click on "I participate" to build your online file.
The form to complete the online file is made up of 6 steps:
– All steps must be completed to validate your request.
– Once the information requested is entered, click on "Next" to save your information and continue to fill out the form.
– The fields with a red asterisk are compulsory fields.
If one of this information is missing, you will not be able to take the next step.
Each offer has a clean form.
Fill out the form corresponding to the offer concerning the product you bought, following the following steps.
Noticed : Since September 2019, any request for participation must be made via the online form associated with each offer. No paper file will be processed.
Step 2: Personal information
1. To complete the participation form, you must have a Samsung account.
If you already have a Samsung account, you can enter your identifiers. Otherwise, you have to create an account.
2. Identify yourself by entering your email and password then press the "OK" key.
If you have lost your password, click on "Forgot password ? To reset it.
3. Once connected to your Samsung account, the participation bulletin opens and appears as follows.
Noticed : Personal information is automatically filled with the elements recorded in your Samsung account.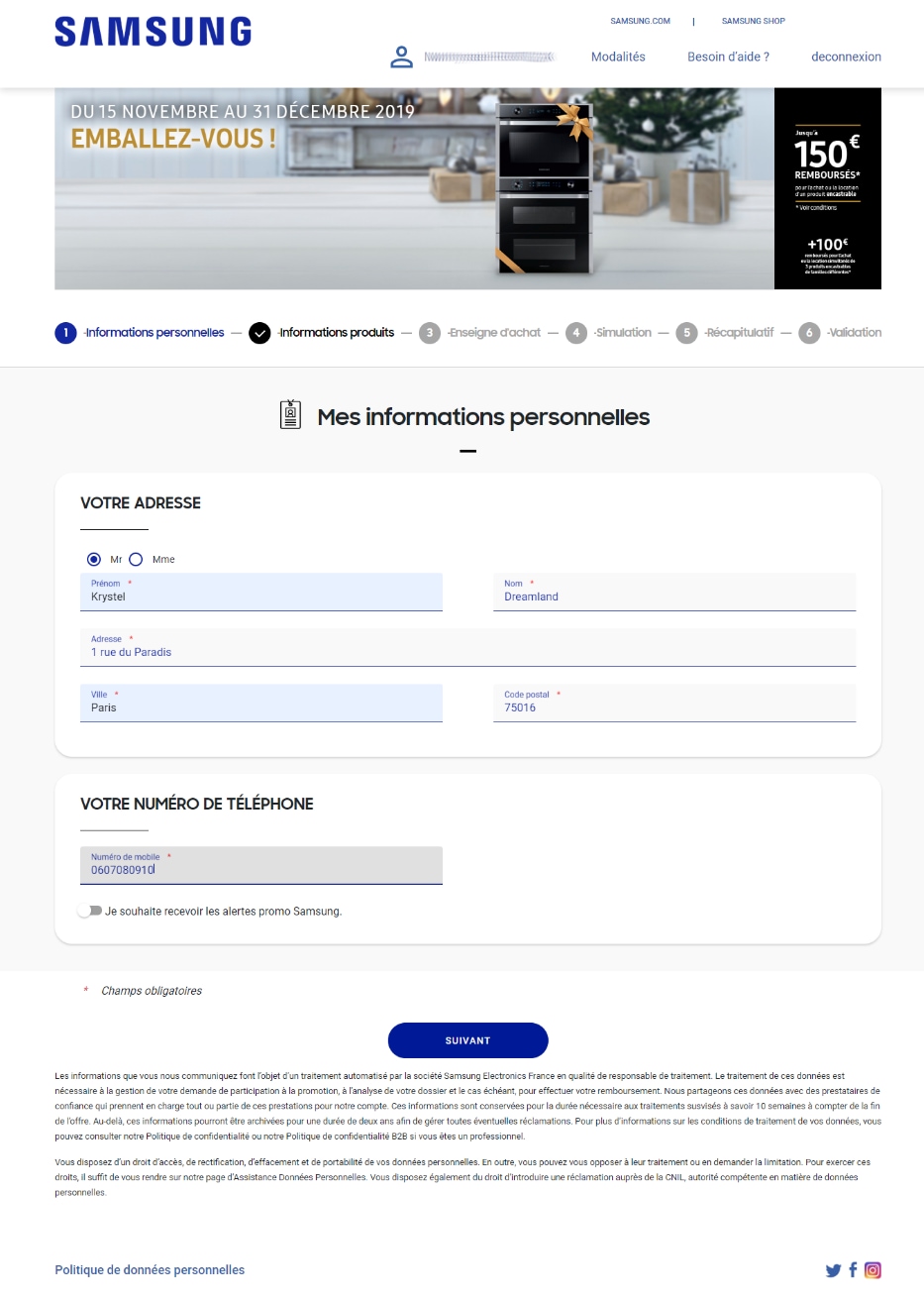 Noticed : If you are a professional, you will have to add proof of professional activity to the file:
Registration at the RCS, the Chamber of Trades and Crafts, in INSEE, Kbis extract of less than 3 months.
Step 3: Purchase product and supporting documents
The product information is indicated on your invoice, as well as on the white label of the packaging card and on the signage label stuck on your product.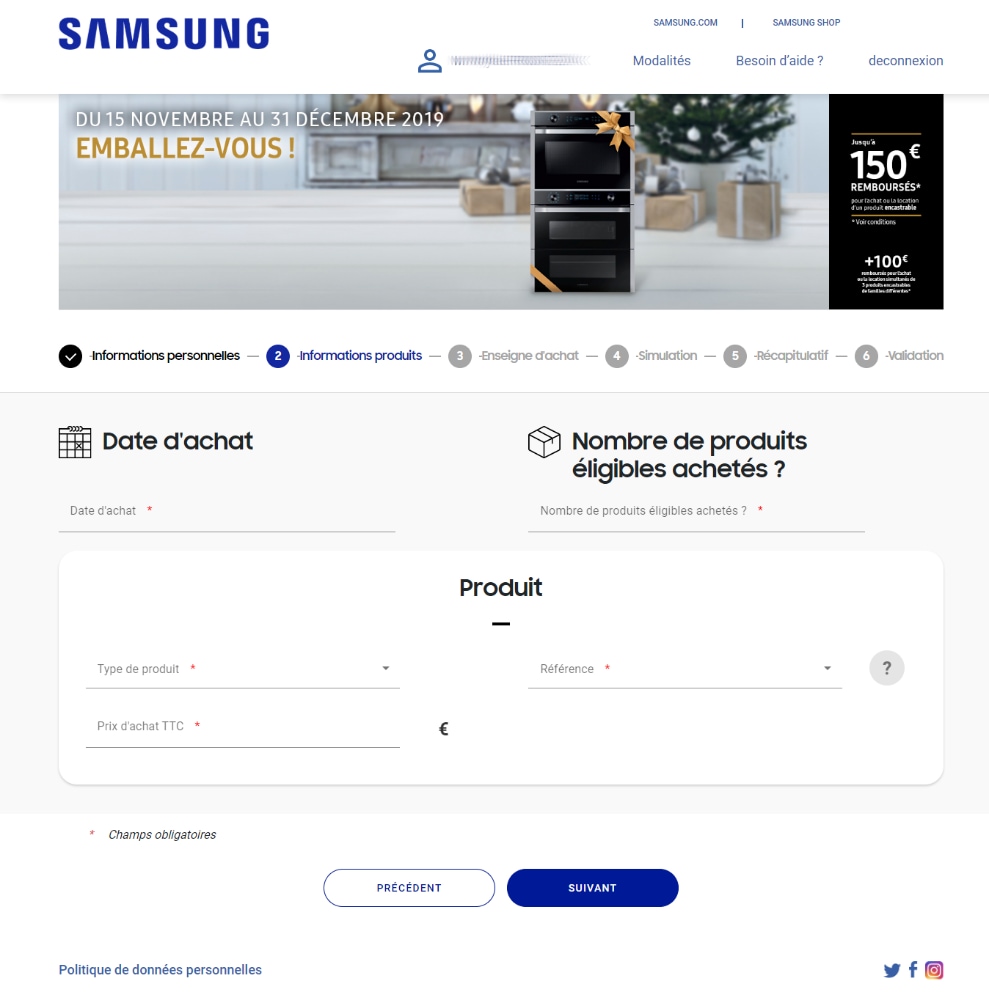 Noticed : Product identification numbers (bar code or ean code, IMEI) must be indicated without dash or space.
If the color of your device does not appear in the drop -down menu of references, you can choose an identical model but in another color: this will have no impact on your refund.
In order to complete this step,
You will have to prove that you are the product buyer
by downloading the purchase supporting documents indicated below.
Make sure that the downloaded elements are readable enough to facilitate the processing of your request:
Any illegible, incomplete or fraudulent element will result in the rejection of the file.
Bar codes and seized number must be identical
to those you have seized in the form.
1. Copy of proof of purchase or rental
2. Photo of the cut label of your product
3. Photo of the signage label
4. Copy of your RIB
1. Copy of proof of purchase or rental
1. Copy of proof of purchase or rental: invoice or confirmation of order.
It is imperative to provide the entire invoice: all pages must be transmitted even if other products appear on the document.
If you have bought your product online, you must provide proof of order: this can be A copy of the order confirmation email from the purchase website or a screenshot of your purchase on your customer area On the distributor website.
In both cases, the following information must be included:
I- The ordered product (s)
III- The website on which the products were ordered. If you choose to provide a screenshot of your purchase on your customer area, it must include the URL of the site.