What is a transparent screen
It is the multiplication of LED themselves that produce the image in an emissive way. They therefore offer high light and no size limit.
Transparent screen
LED giant screen, sound system
Our history
Big screen
LED Wall
Images wall, LCD and LED ecrans
Showcase
Interior giant screen
Outdoor LED screen
Transparent screen
Terms and conditions
Manage consent to cookies
To offer the best experiences, we use technologies such as cookies to store and/or access the information of the devices. Consenting to these technologies will allow us to process data such as navigation behavior or unique IDs on this site. The fact of not consenting or withdrawing your consent may have a negative effect on certain characteristics and functions.
Functional functional always activated
Storage or technical access is strictly necessary in the end of the legitimate interest to allow the use of a specific service explicitly requested by the Subscriber or the User, or for the sole purpose of transmitting the transmission of Communication on an electronic communications network.
Preferences Preferences
Storage or technical access is necessary for the purpose of legitimate interest to store preferences that are not requested by the subscriber or the person using the service.
Statistical statistics
Storage or technical access which is used exclusively for statistical purposes. Storage or technical access which is used exclusively in anonymous statistical purposes. In the absence of a summons to appear, voluntary compliance on the part of your Internet access provider or additional records from a third party, the information stored or extracted at this end cannot generally not be used to identify you.
Storage or technical access is necessary to create internet users in order to send advertisements, or to follow the Internet user on a website or on several websites with similar marketing purposes.
What is a transparent screen ?
What is a transparent screen ? A transparent screen is as its name suggests a multimedia support diffusion tool through which we can see. A few years ago, it was in the order of science fiction. However, today, There are several solutions that respond to this definition. Not all have the same technical characteristics and the same advantages. They will therefore not all suit the same use.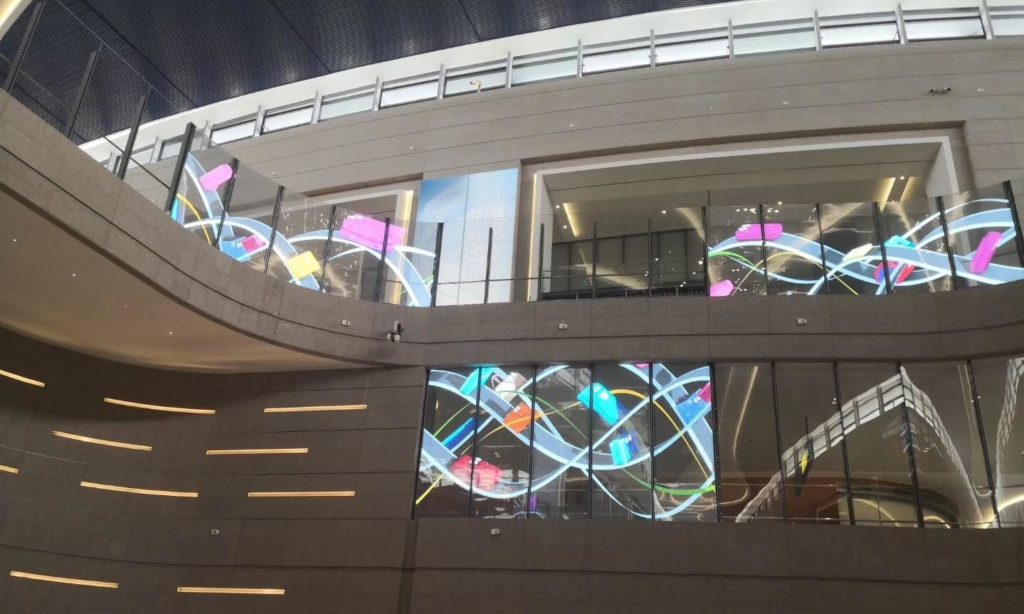 Technical characteristics of a transparent screen
The technical characteristics of a transparent screen will mainly depend on the technology used. This will also give a very different visual rendering and will influence its use. They will be based first on a translucent support, This can be a glass or a polycarbonate plate. Then A light diffusion solution, They are usually LEDs or OLED.
We will therefore distinguish 3 main types of transparent screens, LCD LCD screens, OLED LCD screens and LED screens. The first two are relatively similar in their rendering and use. The second will have a completely different operation, and this will affect its use. Finally, there are other transparency display solutions, but these will mainly be based on holographic diffusion or a mirror game.
The different transparent screens solutions
LCD LED screens
As with a classic LCD screen, the transparent version Works by backlight of the diffusion slab. The difficulty therefore lies in the fact that the displayed image does not emit its own light especially for the LCD and therefore requires a background.
To solve this problem, LCD manufacturers go through the use of transparent LED backlights. This allows you to get a transparent screen, but with a slight smoked effect. However, the use of this solution tends to disappear in favor of the OLED.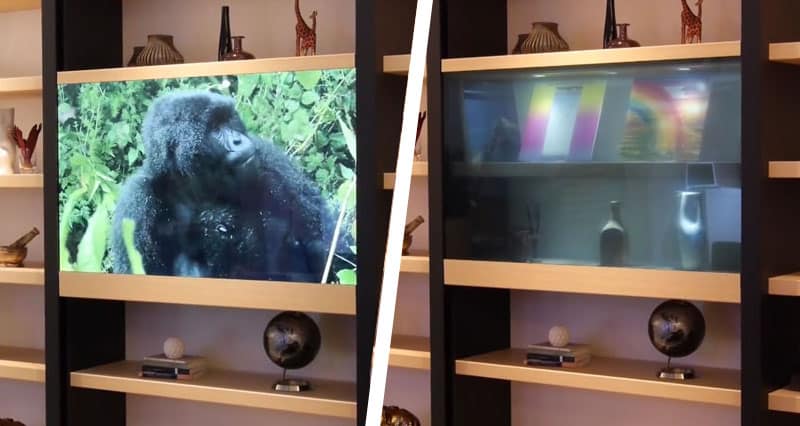 OLED screens
OLED screens go even further. Indeed, they do not require the addition of a backlight. They operate by succession of diapers, including an emissive in which we pass an electric current to produce the image. The visual effect is therefore more interesting. However, they have a limited brightness and cannot display black, which requires the addition of a special layer.
In addition, they are also limited by the size of the successive slabs used. this implies An essentially turned use of the role of TV or monitor For interior display.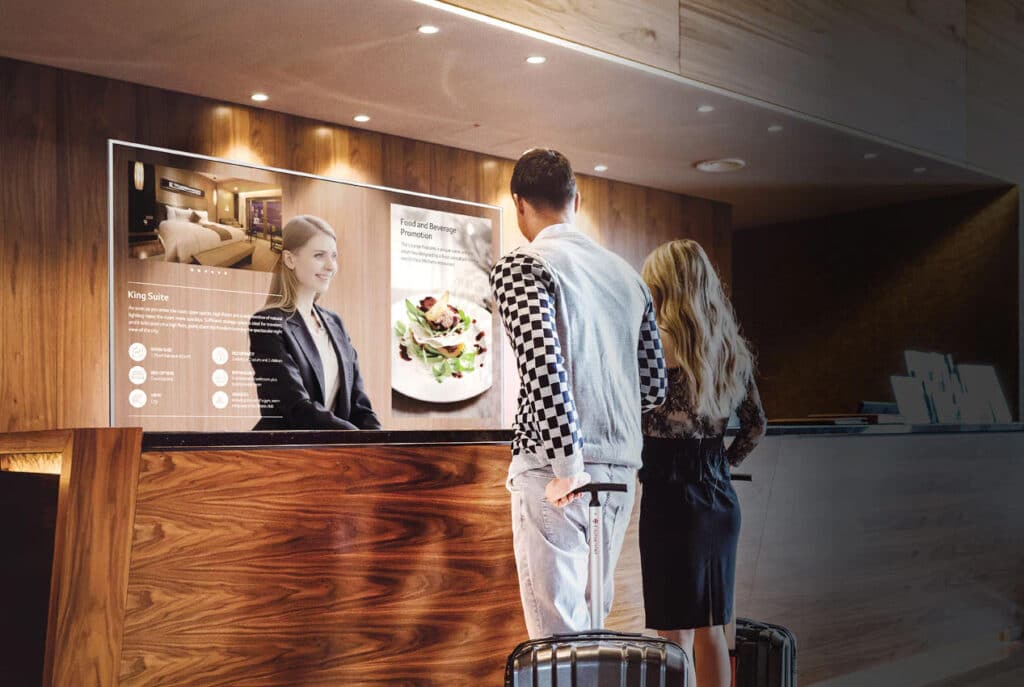 Transparent LED screens
Transparent LED screens operating differently and is therefore intended for also different use. They are based on the miniaturization of mesh technology, applied to a transparent polycarbonate or glass plate. It is thus compared to the microperforated solutions used for the display display.
It is the multiplication of LED themselves that produce the image in an emissive way. They therefore offer high light and no size limit.
However, they depend on the orientation of LEDs. Thus, we obtain the diffusion of the image on one side and on the other, an almost complete transparency, which The Allier of the Showcases. Like the OLED, the transparent LED screen does not display black, but transparency, which opens up possibilities in the creation of visuals.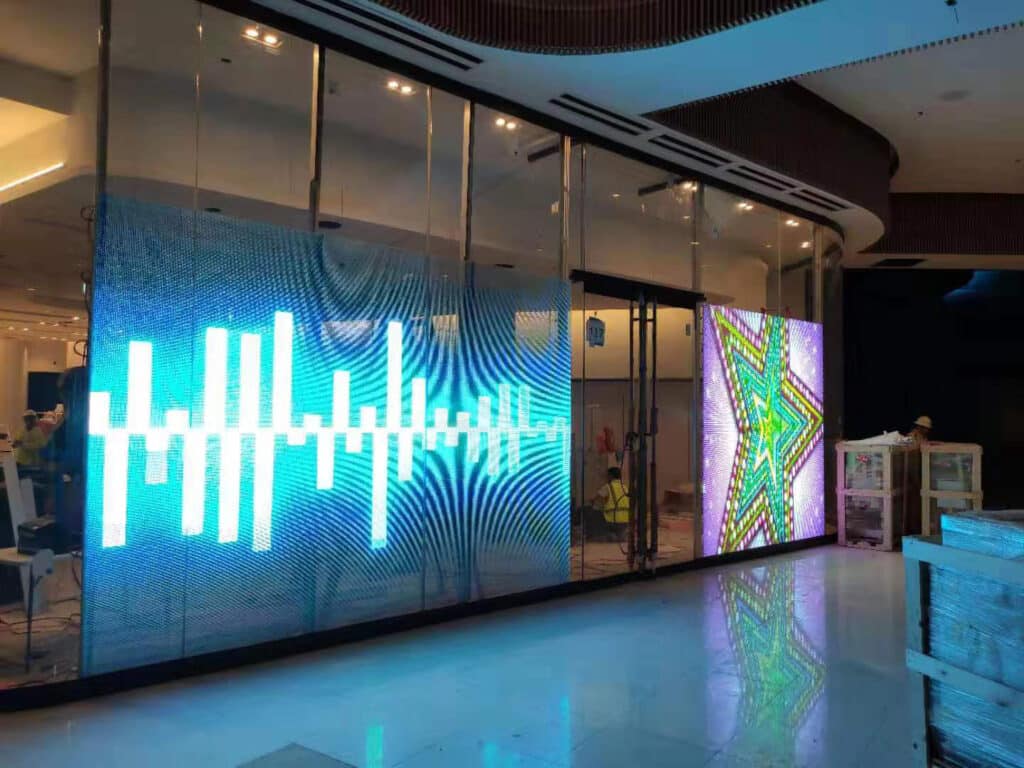 So what is a transparent screen and what is it for ?
Transparent screens are therefore the latest to the world of display and televisions. They thus make real what was of the science fiction of yesterday. On the current market, there are in reality two major technologies which will respond to two different requests. They bring mixed use between diffusion and decorative development.
OLED screens As with conventional screens are intended for internal use as a professional television or monitor. Transparency here is used to better integrate them into the interior environment or to serve as a digital interface between two spaces.
Transparent LED screens As for them meet a need for large format or one -way communication through a window window. They are thus very appreciated in the window to preserve the view of the outside. It is also found in architectural design, to animate the glass facades or for decorative layout and the creation of animated walls.
At Winlight, We are designers of giant LED screens and dynamic display specialist. We also offer a transparent LED screen solution, the X7-Air.
If you have a dynamic display project on LED screen, do not hesitate to contact us or visit our site.