See all passwords saved on your Google account
2. A more or less long list is displayed, ranked in alphabetical order of the site or online service. Multi-account sites are specified.
How to display, modify or delete passwords saved on Google Chrome ?
Chrome is the most used browser in the world with 63.16 % of market share, according to Statcounter.com. It's very impressive because Chrome was launched in 2008, about five years after Firefox and Safari.
Access your recorded passwords in Chrome
Display or delete your recorded passwords in the Chrome browser settings
How to modify the recorded passwords on Chrome ?
What is best: Nordpass or a navigator ?
There are many reasons why this browser is so popular. Google's reputation, its navigation speed, its user -friendly interface and its compatibility with Android are the dominant factors for many users. In addition, Chrome offers integrated features, such as a password manager and many other useful extensions. Overall, it contains everything a user may wish for a browser.
If you are like me, who never thinks of reading the contextual browser messages, you can end up with a good number of recorded passwords. Or you record them voluntarily, because it is very practical. In any case, have you already checked or cleaned your passwords in your Chrome browser ? If this is not the case, it is high time to do it. You could be surprised by the number of identification information recorded there. In addition, if you use other password managers, you may want to clean up your data for your own peace of mind.
Access your recorded passwords in Chrome
As a Chrome user, you can access your recorded passwords in different ways. You can find them in the Chrome browser settings or in Google Password Manager.
Display or delete your recorded passwords in the Chrome browser settings
To display your passwords, follow the steps below:
Launch chrome.
Click on the three -point icon on the far right of the Chrome toolbar.
Google Password Manager allows you to delete your recorded passwords. Know that all passwords deleted using Password Manager are definitively deleted.
How to modify the recorded passwords on Chrome ?
To modify your passwords, you must first synchronize your Google account on all your devices. To do this :
Open the website you want to update your password.
Now, to modify your passwords:
Open Chrome and click on the icon of your profile in the upper right corner. Click on the key icon, which will lead you to your recorded passwords. Now click on display and manage the recorded passwords in your Google account . Otherwise, you can also go to Passwords.Google.com and connect with your Google identification information.
Is it useful to keep passwords in Google Chrome ?
Keeping your passwords in the integrated chrome password manager is not so bad. It is practical if it is your favorite browser and it is better than using the same password for all your accounts. However, it is worth keeping your passwords in a browser, or should you choose a third-party password manager, such as Nordpass ?
Are they safe ? Most of the browser password managers have been designed as additional modules, which means that they do not necessarily have the highest security. Chrome is vague as to the encryption he uses to protect your passwords. Nordpass is getting your data with one of the last encryption algorithms, xchacha20. Your passwords are also encrypted on your device, which means that no one, not even the employees of Nordpass, can see them.
Is it practical ? Chrome offers a mobile application that allows you to consult your recorded passwords when traveling. However, you will have to look deep in your settings to find them. With Nordpass, you can find your passwords on any device, at any time. Simply download the application, open it and display your passwords. And the best is that it offers to automatically fill your passwords on the most popular browsers and mobiles.
It is free, so why choose something else ? Nordpass is also free. The free version offers all the features of a reliable and easy -to -use password manager. It automatically records and fills your passwords, works on several platforms and even offline, and is protected by one of the last encryption algorithms.
Choosing a reliable password manager is not an easy task. See how Nordpass ranks in relation to password managers for browsers.
See all passwords saved on your Google account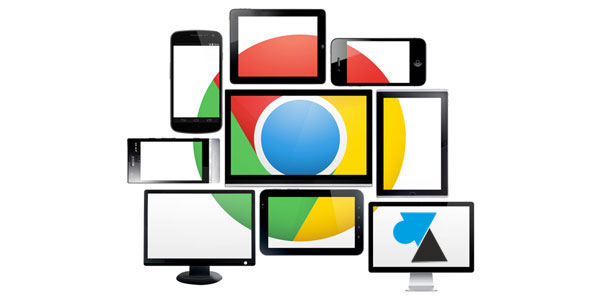 Increasingly integrated into our daily life, computer and smartphone, Google follows our least gestures on the Internet. Mail, GPS navigation, youtube, health data, video games, internet surfing, photos, data backup, videoconference, documents … The Google ecosystem is phenomenal. And to access all these services, only one account is enough: an @gmail address.com. A strength to collect everything but many other services, competitors or complementary, are not part of Google or Alphabet's fold, the parent company. Facebook, Twitter, Netflix, but also taxes, health insurance, furnishings … All these sites require a user account and it is recommended to use a single password for each site, multiplying the number of codes to memorize. Impossible to keep everything in mind, impossible to radically create a very different password with each new connection, Google wants to be assistant, secure and accompanying with the recording of passwords of annexed sites in its password manager. Not necessarily linked to Google Chrome software but simply connected to the Google account (Gmail), a directory of all sites with identifier and password is saved. A list, an index, bringing together dozens of sites whose password has already been saved in the Google account via computer (web browser) or smartphone (application or web).
This page indicates where all passwords recorded by Google are stored, Whether access to Google services or other sites and applications.
You have to be vigilant: all passwords that are recorded in Google Passwords are dependent on one thing, the quality of the Google account password. So do not skimp on the complexity of the Gmail MDP, mixing upper, tiny, figures and special characters on at least ten characters.
Google Passwords password manager
2. A more or less long list is displayed, ranked in alphabetical order of the site or online service. Multi-account sites are specified.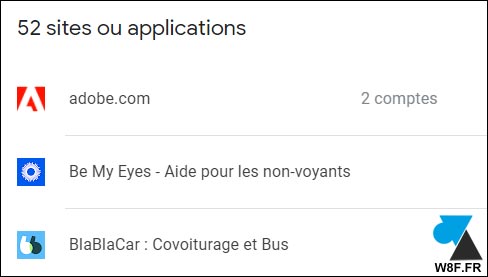 3. Click on a line to see the username and/or password. It will take the first time Authends with the Google account (Gmail) To access this information: "To continue, please confirm your identity"
4. The first line indicates theE-mail or theidentifier (login). We can directly copy it thanks to the icon at the end of the box.
The second line hides the password : Click on the eye to see this secret code, click on the copy icon and then go paste it elsewhere (on the site in question, for example).
The button " To modify »Allows you to modify one of the two information, for example after changing your password.
The button " DELETE "Erases this site from the list of passwords saved by Google.