What is the best Biplace electric bike
THE LED headlights at the front and back allow you to conquer landscapes still not explored.
Vintage Super 67® vintage electric bike
The Super 67® by Boubou Bicloo® is a high -end two -seater bike, both elegant and powerful.
The Super 67® is designed to provide a pleasant driving experience for two people. Its powerful battery, its powerful engine and its high quality components make it an ideal choice for those looking.
Here are the detailed characteristics of this model:
Electric motor: 250 Watts BAFANG BRUSHLESS with 80NM reinforced torque sensor
Battery: Removable lithium-ion of 48V/13.4Ah, offering a power of 643 watts.
Front/rear headlight connected to the battery for better visibility.
Aeronautical quality aluminum frame.
Double T fork for comfortable and stable driving.
Double baton and double wall aluminum rims with CNC hubs.
Kenda Piko tires 20×4.0 for optimal grip on difficult terrain.
Tektro hydraulic front and rear brakes for powerful and responsive braking.
Tektro aluminum brake levers with automatic cutoff for increased safety.
SHIMANO OUT speed reducer 7 speeds.
Shimano Altus derailleur.
Shimano SL M315 7V controller.
Double 52 teeth aluminum wardrobe tray.
Shimano aluminum crown.
KMC anti-rust chain for efficient and sustainable transmission.
Chopper style handlebar.
Welllo pedals for increased comfort and safety during driving.
Vegan leather two -seater saddle for more sustainability.
KT-LCD7C color counter to easily monitor driving performance and statistics.
Intelligent charger of 100-240 V 2A for a complete recharging in 3 to 5 hours.
The Super 67® is a high -quality two -seater electric bike, offering an exceptional driving experience.
For more information or to place an order, do not hesitate to contact us.
Share Share on Facebook
Tweeter Tweeter on Twitter
Pin pin on pinterest
What is the best Biplace electric bike ?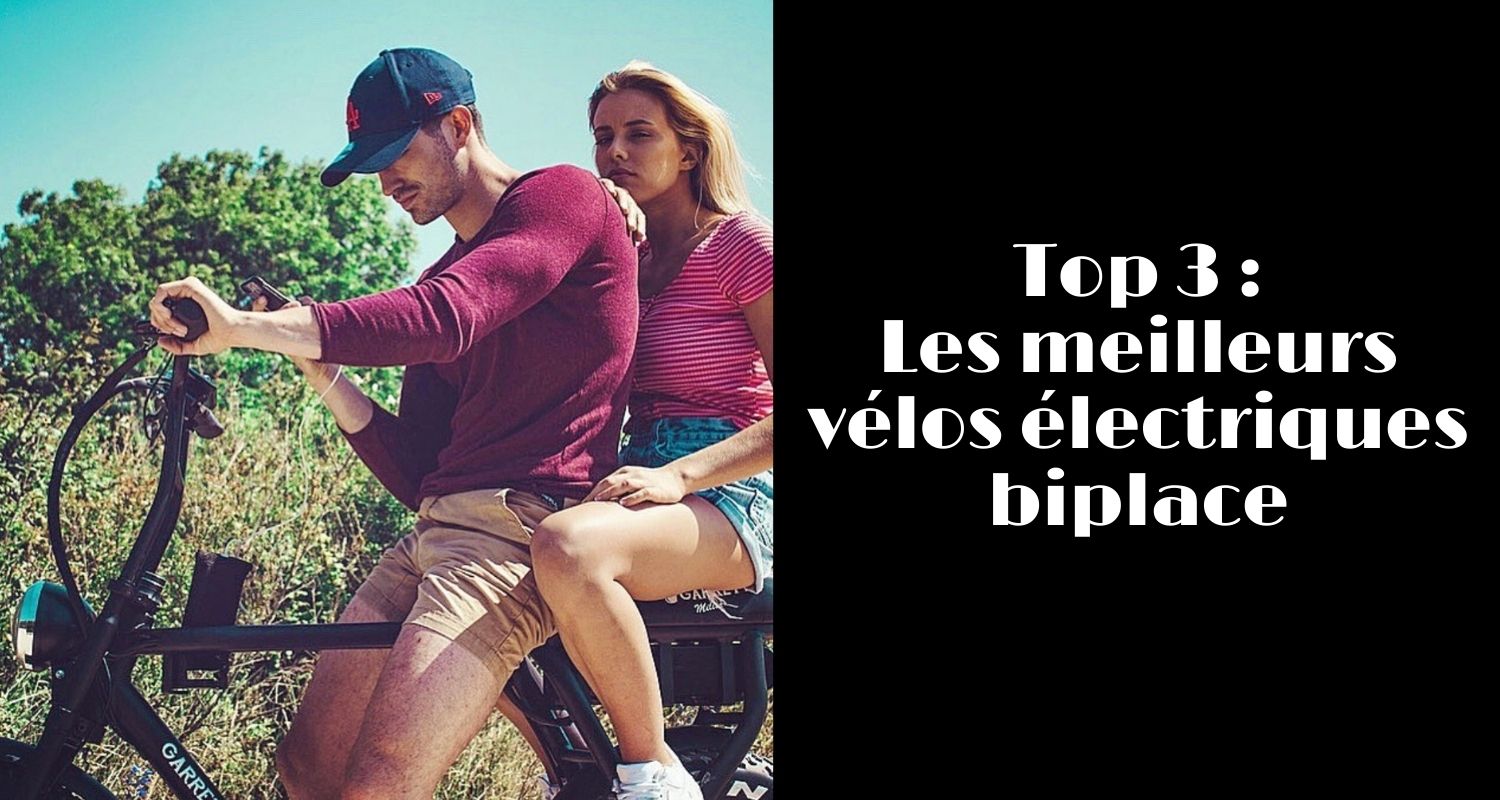 The market electric bike is in full boom. Manufacturers compete in imagination in order to offer ever more customizable and unique bicycle models. We are interested today in bikes embracing a saddle two -seater. Still little widespread, this type of bicycle offers its users the possibility of walking in pairs or embarking accessories.
Why buy a two -seater electric bike ?
Biplace electric bike is a novelty in the universe of electric assistance bikes. It's about a alternative to the car or cargo bike in order to move two or do your shopping or bring your child to school without difficulty.
It is a less tiring means of displacement than the classic bike, more respectful of theenvironment than thermal machine and much less bulky than a car.
The electric bike continues to make new followers every day. Users today want to provide the minimum effort when they move by bike for various reasons. They also want to be able to move in duet but not necessarily on a motorcycle and want to enjoy loading spaces but not on a scooter.
The two -seater electric bike brings together all these criteria and offers a alternative practical, at a lower cost !
Top 3 Best Biplace Electric Bikes
For users wishing to invest in an electric bike for two, here is our selection:
Yuvy electric bike (Price: 1899 € excluding accessories)
A multi -use bike
Developed by the French company Elwing, the Yuvy electric bike has joined the brand of the brand recently.
Her unique design Recalls the famous little mopeds of the 70s and 80s Honda Dax and Monkey.
Yuvy is a bike designed for the city. We choose it above all its appearance functional Rather than its pure performance. This bike is indeed a real alternative to the car in town because it is possible to equip it with a hundred accessory combinations (Baby seat, bags, luggage racks, storage box on the frame, windshield, surf door, etc.)).
Quality components
Yuvy is equipped with an engine Bafang 250W. It has hydraulic brakes and a pedal/derailleur set Shimano Altus 7. This bike offers 5 levels of assistance, has 20 inch wheels and is equipped with a screen LCD to display the time, distance, speed and driving mode.
A powerful VAE
In accordance with the law, the assistance of the bicycle accompanies you up to 25 km/h with a autonomy ranging from 50 to 70 km. He resists a maximum charge 150 kg and suitable for cyclists measuring between 160 cm and 185 cm. Its weight (battery included) is displayed at just over 30 kg.
Garrett Miller X electric bike (Price: € 2490)
Franco-American in unique style
Its design comes from an explosive cultural mixture. Strongly inspired by the origins of its founder, he combined the French tradition, drawing inspiration from Mobylettes, stars of the 80s and American madness with its choppers and extravagant motorcycles.
The architecture of the bicycle offers a Very pleasant driving position, slightly raised. In addition, the large saddle brings additional comfort.
THE large all-terrain wheels reveal the adventurous character of the Garrett Miller, who is also comfortable on the ground, in the countryside as on a tarmac road, in town.
A cutting -edge technology
With a 250 watts brushless engine, The Garrett Miller X propels you to 25 km/h over a distance of around 50 to 70 km. It is used as a classic bike but offers an inimitable style and an ease of pedaling thanks to the 5 assistance modes.
The bicycle offers versatility on all terrains. He turns out to be agile on damaged terrain with his 20 inch cross wheels. His thick and wide saddle offers it significant road comfort over long distances. It can be used in any time, day and night.
THE LED headlights at the front and back allow you to conquer landscapes still not explored.
Relatively light compared to other bikes in its category (32 kg), it has Metal sludge guard as standard as well as a adjustable handlebar very practical.
The Garrett Miller X can be used in a classic way thanks to its 7 -speed pedals. As soon as you want to activate electric assistance, 5 driving modes are available. The adhesion and the couple delivered then make it possible to exploit the performance of the bicycle as much as possible.
Security
The disc brakes at the front and at the rear allow a Optimal braking and progressive. The bike is also equipped with devices luminous at the front and rear and a device sound To prevent other users.
The battery is removable To facilitate the load. A set of keys is also provided for to secure battery and bicycle starting.
Super 73 S2 electric bike (Price: € 3399)
American class !
The Super73 S2 electric bike is without compromise. It was designed to accompany you in the adventures of daily. Compatible with the Super73 application, the personalization your driving experience is at hand. This bike is ideal for a quick race or a big trip.
Her design has been modernized and refined to offer a visual that cannot leave anyone indifferent.
News 2021
The alloy frame ofaluminum 6065/7071 is lighter and more rigid than steel. This allows the bike to resist the rust and at the corrosion.
This new S2 model offers an improved suspension compared to previous models. She even becomes adjustable For optimal comfort on all terrains.
The 250 Watts engine is very torqueeux. He is able to develop a power of 2000 watts on spade.
The S2 is powered by a very high capacity battery of 960 Wh. Autonomy will be approximately 120 km depending on the assistance modes used.
The Super73-S2 is equipped with the brand new bdgr tire. With a 5-inch width, this 20-inch all-terrain tire is even wider than the previous models.
The original length of siege is a two places, A real plus for two -way trips.
Conclusion
The two -seater electric bike makes a successful entry into the electric bike market. He responds to an increasing demand which consists in equipping his bike as much as possible in order to be autonomous, by bicycle, in its daily trips.