Collective or individual lessons with learning to drive in the city.
For adults and children from 8 years old.
Bicycle services
Map of bicycle services in Ile de France

Where to learn cycling ?
Whether you are young, younger, beginner or confirmed, bicycle learning is given in the school bikes in Paris and Île-de-France in order to train you to circulate in town with a satisfactory technical level.
In Paris
AICV
The AICV Association (Animation Integration Culture & Bicycle) is the first school in the Paris region intended to learn bicycle: more than 250 people are welcomed each year (children, adults, disabled) and benefit from the learning courses provided by the animators of the structure.
AICV, present in Paris and Seine-Saint-Denis (93), is a structure based on an economic and social project combining market activities (bicycle rental and repair) and non-market activities such as bicycle courses, A bicycle and handicap project, training and integration of its employees, recycling bicycles.
During the summer period, the association manages rental spaces and entertainment such as small Vélib ', summer of the canal in Paris and in Seine-Saint-Denis.
Address : 38 bis quai de la Marne, 75019 Paris
Website : http: // www.AICV.Net/Activities-Cours-Balades/
Phone : 01 43 43 40 74
E-mail : [email protected]
Prices : For 10 lessons of 2 hours: 115 euros (€ 100 + € 15 membership) unemployed and student: 95 euros (€ 80 + € 15 in addition)
Paris Sud Davs
The Davs association (Development Animation Bike Solidarity) Sets up social, cultural and sports projects around practice and learning cycling.
Within the Paris Sud school bicycle, we welcome adults throughout the year who do not know how to bicycle to accompany them in the discovery of this practice. During the holidays we welcome children from 5 years old in our bicycle courses.
Throughout the year we animate and support several projects around the practice of cycling in partnership with:
• Ile de France schools and colleges
• Social centers, young points, MJC…
• Integration and/or support associations of audiences in difficulty
• Student groups
• Communities and businesses
Address : Cité Universitaire de Paris, 17 boulevard Jourdan, 75014 Paris.
(From mid-November, big neighbors, 82, avenue Denfert-Rochereau 75 014 Paris.))
Website : https: // assodavs.com/
Phone : 07 77 07 06 95
E-mail : [email protected]
Prices : 60 euros for 5 sessions; 100 euros for 10 sessions; For residents and staff of the Paris University City as well as beneficiaries of social minima (RSA): 60 euros for 10 sessions.
In Île-de-France
Living by bike in town (Bike School of Montreuil)
Live by bike in town is a pioneer association, which has been fully volunteer, who has been teaching adults since 2005 to cycle.
Address : 18 rue Paul Doumer, 93100 Montreuil
Website : http: // www.VeloecoledeMontreuil.com
Phone : 06 36 73 45 83
E-mail : [email protected]
Prices: 30 euros for 10 sessions, payment per check in order to live by bike in town.
Saint-Denis school bike
The school is intended for adults who wish to learn or re-learn to cycle.
It is held on Saturday morning at 9 am for the beginners and 10 am for those who already know how to pedal (who go to the Parc de la Courneuve).
It takes place at the Marville school located in schools at the start of avenue Romain Rolland, after the Ambroise Croizat room.
She is hosted by Bicyclo, the bicycle house and bicycle volunteers in Saint-Denis.
Address : 120, rue Gabriel Péri, 93200 Saint-Denis
Website : http: // bike.high and loud.Com/Info-sur-la-Velo-Ecole.html/http: // bicyclo.org
Phone : 01 48 23 56 41
E-mail : [email protected] / [email protected]
Prices : Free courses after membership of the Association Studies and construction sites (€ 16 per year)
Sharing your street 94
Website : https: // sharing94.WordPress.com/bike/
E-mail address : [email protected]
Prices : Beginners: 15 sessions of 2 hours over 12 months: € 50 (€ 40 lessons + € 10 membership)
Advancement: 8 sessions of 2 hours over 12 months: € 40 (€ 30 lessons + € 10 membership)
Brunoy school bike
Website : https: // Velobrunoy.WordPress.com/
E-mail : [email protected]
Prices : 15 sessions (every other Sunday): € 50
Cyclophil (Antony's school bike)
The school is intended for children and adults under private or collective lessons.
It offers :
– learning cycling for those who have never done it
– Return to saddle to regain confidence on bicycle
– City traffic to move calmly in an urban environment
– Theoretical and/or practical workshops with employees of companies or communities agents
Address : 18 rue du Parc, 92160 Antony
Website : https: // www.cyclophil.Fr/
Phone : 0661583141
Prices ::
• For individuals and children
◦ 5 sessions of 1h30 = 70 €
◦ 10 sessions of 1h30 = 130 €
• For students and people looking for a job
◦ 6 sessions of 1h30 = 70 €
◦ 12 sessions of 1h30 = 130 €
For companies and communities, The price will be tailor-made.
MDB cycling in 92 and 95
Website : MDB school bikes
Phone : 01 43 20 26 02
Rate : free after membership of the association: 30 €
Antony by bike, Angle rue Adolphe Pajeaud and rue Georges Sand 92160 Antony, session of 6 sessions on Saturday from 10 a.m. to 11:30 a.m.
Bezons-Argenteuil, Angle avenue Gabriel Péri and boulevard Héloïse 95870 Argenteuil, Saturday morning for beginners and afternoon for intermediaries.
Bois-Colombes, Allée de la Croix du Sud 92270 Bois-Colombes, Saturday from 2:30 p.m. to 4:30 p.m. (Bikes can be loaned during the course.))
Bike clich, Saturday from 4 p.m. to 6 p.m. (summer) or 2:30 p.m. – 4:30 p.m. (winter).
The city by bicycle (Chaville), 5 rue Stalingrad at the Paul Bert de Chaville school 92370 Chaville, Sunday at 10 a.m.
Bike whore, Maréchal Leclerc college, Saturday afternoon.
Vanves in free wheel, 20 rue Jacques Cabourg 92170 Vanves, Sunday from 10 a.m. to 11:30 a.m
Bobigny bike
Introduction to cycling, back in the saddle and traffic in town
Bikes, helmets and vests are loaned by the association.
Information and appointment with Patricia at 06 95 04 18 01. Email address: l-et-g93@ orange.Fr
Learning :: You have never bicycle – on appointment

Sunday at 11:00 a.m
Monday at 9:30 a.m. and 4:00 p.m
week and evening by appointment
Back to saddle :: You forgot or want to circulate in town – on appointment

Sunday at 9:30 am
Monday at 11hoo and 2:00 p.m
week and evening by appointment
The schedules are modular depending on the requests. Other slots may be available.
The sessions take place at the Bergère Park. We meet at the kiosk near the fountain.
2018 price : € 30.00 reduced rate: € 27.00
2018 reduced rate : € 30.00 membership € 12.00 + 5 sessions 1h30: € 18.00

Group rate : inquire with the association
Center & East Essonne bikes (Provelo Sud Idf)
Collective or individual lessons with learning to drive in the city.
For adults and children from 8 years old.
Ris-Orangis: Saturday from 10 a.m. to 12 p.m
Epinay-sous-sénart: Sunday from 10 to 12 p.m
Website : http: // Provelo-IDF.Fr
E-mail : [email protected]
Prices : 5 two -hour sessions: 65 €
The association
Paris in saddle, It is the bicycle association of all those who want to make Paris and Grand Paris more breathable, more pleasant … more simply cycle ! It is open to everyone.
Legal Notice
Paris in saddle is a 1901 law association of general interest. She is a member of the federation of bicycle users (FUB).
The use of self-service bikes has exploded in recent years in Paris, in particular thanks to the many cycle paths now present in the capital. Many start-ups wanted to embark on the adventure but few are still in circulation at present. I compared for you the self-service bikes available in the capital.

You surely already know Vélib ', the most famous self-service bicycle system in Paris, which is why it is not included in this article.
Lime
View this post on instagram
Lime is an American company well established in the French capital and which has many electric bikes everywhere in intramural Paris.
The Lime bike is Ideal after a shopping session Because it has a Basket at the front to deposit your belongings as well as a Rear and front lamp For safer driving. It is recognizable by its white and green color.
Dott
See this publication on Instagram
Dott is a Dutch company that invites you to use electric bike in Paris rather than other types of transport. She wishes to become a formidable competitor of Lime by offering more sustainable bikes.
For the moment, Dott offers greater autonomy that Lime (10 km of autonomy in addition) but the prices are the same for the two companies. The start-up wish in the future extend its network of bicycle to Parisian suburbs.
Dott asks you only € 1 to unlock the bike, then invoice € 0.25 per minute.
Zoov
View this post on instagram
Zoov offers elegant blue and black bikes of Great autonomy at low prices And Without unlocking fees.
The drawback is that The network is only available in Paris-Saclay (Saint-Rémy-lès-Chevreuse, Bourg-la-Reine, Massy, ​​Palaiseau, Orsay, Antony etc) and not in Paris Intra-Muros. There are hundreds of bikes all over the area.
There is a sponsorship system to obtain discounts on your journeys, so do not hesitate to invite your friends.
Pony
View this post on instagram
You will love these blue and purple bikes for their Small price defying all their competitors.
The society invite you Moreover to circulate on cycle paths Along lines 1 and 13 of the metro, where she stores and recharges her bikes, thanks to a fixed rate in this sector. And if you really like their bikes, know that you can even buy them.
The little downside of Pony is that you must always Send a photo of your parking (still in the arches provided for this purpose) under penalty of a fine of 5 to 25 euros and that a deposit of 25 € will be requested to the creation of your account.
Veligo
See this publication on Instagram
These bikes are turquoise and black blue and are available in intramural Paris.
The Véligo Rental service works with a system of Rental for a minimum of six months From the date of handing over the bicycle.
The rental price varies Between 20 and 40 € per month Depending on the model you want to rent, with maintenance and assistance included.
Just register on the website or download their application.
You can renew your subscription from 3 months of use.
Tier
See this publication on Instagram
These turquoise electric bikes are reassuring in addition to being beautiful ! Indeed, the tier bikes are designed to do not fall.
To use them, you will have to pay € 1 unlocking, and then the price will be € 0.23 per minute of use, Or € 13/ the time.
They also offer a offer at € 29.99 per month With 300 minutes of races included, or 5 hours of shopping.
The battery goes up to 80 km of autonomy, Which is more than all the other rental bikes.
Motto
See this publication on Instagram
Motto offers electric bikes only in the form of a subscription, so it will not suit you if you simply visit the capital.
The subscription costs 79 € per month And understands breakage and flight insurance, as well as an ultra-performance repair system (less than 48 hours).
The Desgin is also very Modern and very beautiful, All bikes are entirely matt black.
To get a motto, just download the application or go to the site.
Comparative table of bicycle characteristics
All bikes presented are V.HAS.E (electric bikes) which do not exceed 25 km/h.
To be taken and to return to the velopolitan tracks (cycle paths along lines 1 and 13 of the metro) for a special price.
Otherwise, to be deposited on a specific location (see app of the app, pink symbol)
25 € deposit will be taken from the creation of the account. Refund to request in application settings when you want to terminate.
Possibility to lock the bike and unlock it to reuse it at no additional cost (as long as the race is not over).
The photo of your parking at the end of the trip will be requested. (5 to 25 € fine in the event of non-conform parking)
Comparative table for self-service bicycle prices
24 -hour ride pass: unlimited unlimited and reservation at € 9.99 (per 30 -minute race)
RIDE PASS TO MONTH: Unlocking, unlimited journey and booking at € 19.99 (per 30 -minute race)
Between 20 and 40 € per me depending on the model chosen. There are 4 different types of models.
Minimum 6 months commitment for rental per month.
Casse and maintenance insurance included.
Formula at € 29.99 per month for 300 minutes, or 5 hours of shopping.
Formula at 79 € per month
Casse and flight insurance included.
Repair or replacement system (less than 48 hours.))
3 -month subscription to 2.99 € to pay no unlocking fees
24 -hour subscription to 4 € for free unlimited journeys or 30 -day subscription to 8.50 €
Privatization of a bike for € 7 per day.
Vélopolitan rate (if you take a bike there and give it back there): fixed price for the first 20 minutes, then after 20 min, usual price per minute
Velib 'or self-service bike ?
For comparison, a mechanical or electric Vélib 'trip costs 3 € for a 45 -minute race without a subscription with a temporary pass. And with a subscription, even cheaper.
Knowing that most rental companies offer a price of 23 cents per minute, we arrive at around € 10 for 45 minutes.
It is therefore more advantageous to take a velib 'for a long race, and of Take one of the other companies (Pony, Zoov, Dott or Lime) for short journeys Because you will save more.
If you are not very sporty.ve, it can also be more interesting to take an electric bike (rather than a mechanical velib) which will make you make less effort. In addition, all the rental companies (except Pony) ask you No deposit beforehand, Unlike Vélib '.
Self-service bikes, how it works ?
Self-service bikes are available in the street. They are waiting for you !
How to use a bike ?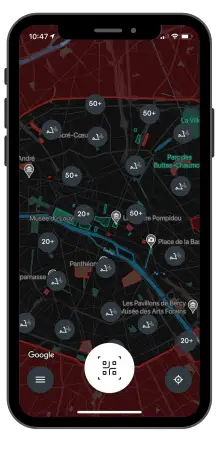 It's very simple: just Download the mobile bicycle application (Lime, dott, zoov or pony, available for all smartphones), you create an account and of enter your payment method.
Once this is done, you can Reserve a bike directly on the app and go get it or Scan the QR cycling code in front of you in the mobile application. After that, it is yours !
What are the prerequisites ?
A Internet connection and one smartphone are obviously required. You must also subscribe on the mobile application, Add a payment method (Carte Bleue, Paypal etc), Activate your geolocation and bluetooth.
You must also know the highway code and respect it, and be over the age of 18. If you are a tourist, you can also use these bikes, provided you are 18 years old or more.
Can I book a bike for a day ?
It depends on the companies. With Lime and Pony, You can book a day bike to An unlimited number of routes at a fixed price.
Where can I find a self-service bike ?
Use mobile apps And Browse the card To find a bike near you. The bicycle can be parked in a specific location (ground marking), in a station with other bikes or anywhere in the street (free-floating).
Where should I park my bike when I don't need it anymore ?
It depends on the bike, sometimes you have to bring it back to a specific station or location And Sometimes you can just leave it on the sidewalk. Be careful not to clutter the sidewalks. I talk more about it in the following question.
In addition, you must Make the vehicle in the indicated area on the application. If you leave it out-zone, recovery fees (can amount to 30 €) will be adjusted.
Is there regulation for self-service bikes ?
Yes, The town hall of Paris has taken measures To regulate the use of self-service bikes.
At first, it is necessary Respect the rules of the road, Which means you have to Respect the direction of traffic, priorities, tricolor lights and not ride on the sidewalks. The latter can serve as parking for bikes, provided they do not interfere with pedestrian traffic, especially for people with reduced mobility (1.40 meters wide must be free on the sidewalks for their circulation).
Here is the charter of the town hall of Paris if you want to know more.
Do you need a driving license ?
No, since bikes do not exceed 25 km/h. It's necessary Just know (and apply) the highway code.
Should we wear a helmet on self-service bikes ?
THE wearing the helmet is not compulsory (and moreover it is not provided) because you are not considered a cyclist when you use a shared bicycle, but as a public transport user.
However, I strongly advises to wear a for your safety.
How to know if the bike has enough battery for my journey ?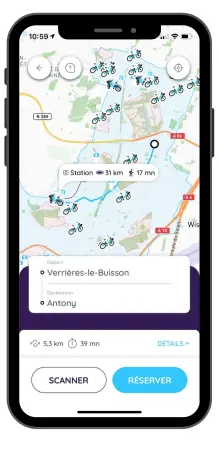 Do not panic : On applications you see the condition of the battery bicycle you take (for example: 25 km remaining).
In addition, you can also indicate your journey (starting point and arrival point) for compare the remaining kilometers to the kilometers you want to do.
If the bike does not have enough battery, we invite you to choose another. THE bikes are regularly recharged, so that you will always find one that is suitable.
What if I have a problem with my bike ?
You can Contact Customer Service via mobile applications. A team will answer you and come, if necessary, recover and repair the bicycle (be careful: you must be in the area of ​​use delimited on the application).
What if we stole my bike ?
You are responsible for the bicycle From the moment you unlock it until you lock it. If you locked the bike and finished the trip then you are not responsible for the flight. Otherwise, it is your responsibility and you will have to pay an additional one (to do with customer service).
I had an accident … What to do ?
I hope everything is fine on your side. For the bikes, Know that they are insured So if you are not wrong in the accident, you have nothing to fear.
There is no bike on the location indicated on the map.
I invite you to Contact Customer Service via mobile applications for report any problem met with bikes.
The bike has no battery. What to do ?
If you can ride again, Place the bike at a station where he can load. If there is no station, I simply invite you to finish your journey on the application and to take another bike If you have not yet arrived at your destination.
The technical teams are responsible for recharging the bikes when necessary.
The shared bike is Much cheaper for short journeys. In addition, you have no deposit to pay beforehand (except with Pony).
If you want to rent a bicycle directly in a store in Paris for half a day or a day, then do not hesitate to consult my article The best stores renting bikes in Paris compared.
Note : Since September 1, 2023, self -service electric scooters have been deleted in Paris.
Tips, good deals, best addresses, I help you in your travel research, activities, hotels and restaurants. Whether for a walk, a weekend, an afternoon or simply to find a trendy establishment where to eat, I have what you need. follow the leader !